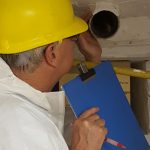 The UK has numerous old buildings and this gives more reason to have an asbestos survey in Knowsley. Asbestos is a silicate mineral that occurs in six forms. Previously marketed as the magic mineral, asbestos has unique characteristics. Asbestos has good tensile strength making it ideal for construction. Moreover, the mineral can absorb sound and its resistance to fire, heat and electricity. These qualities made asbestos the most popular minerals in construction and its popularity climaxed in the 20th century during the industrial boom. Its application ranged from building insulation to electrical insulation. This is the reason behind the increased asbestos surveys on old commercial and residential buildings. ACS specialises in asbestos surveys. We are experts in the management of asbestos in both commercial and residential buildings.
For property owners in Knowsley, an asbestos survey is crucial. The health implications of asbestos exposure are dire. Dr Richard Doll in the UK is celebrated for producing the most comprehensive survey that showed the strong link between lung disease and asbestos. The first victims of the fatal effects of asbestos exposure were miners, but residents in buildings constructed with asbestos materials were next in line. Asbestos is a known carcinogen and it has been linked to mesothelioma. Despite its ban, numerous buildings constructed in the 20th century still have large amounts of asbestos particles in their ventilation. We specialise in detecting asbestos particles. Our work at ACS is to make sure no one is exposed to this deadly mineral. We are fully-equipped with top of the range equipment for detection and disposal of asbestos.
Are you looking for an asbestos survey in Knowsley? ACS is one of the leading companies in asbestos survey in the UK. Over the years we have built a name for ourselves. Our services are second to none and our prices are customer-friendly. In modern construction asbestos-containing components are rare but there are still in the market. If you suspect your premises has asbestos we can assist. For more information about our asbestos surveys, contact ACS. We specialise in carrying out asbestos testing and our reports are conclusive.