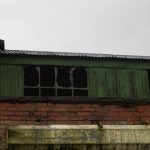 We carry out a professional asbestos survey in Sunderland to ensure you remain compliant with current legislation.   This has become necessary due to the large amount of asbestos used in buildings in the last century. It was hailed as a wonder material which withstood fire and helped to insulate heating units as well as being light and easy to work with. It was eventually discovered to have other properties which were not as beneficial to the occupants of the buildings it was used in.  It turned out that asbestos could be extremely deadly. The fibres that make up the asbestos can detach themselves through damage or wear and become airborne. This allows them to be inhaled and get into the lungs where the sharp spikes pierce the lining of the lungs. Once this happens there is no medical treatment that can reverse the damage.
Whenever renovations or building modification take place in Sunderland, asbestos survey reports are legally obliged to be done before work commences.  This allows the owner or manager of the building to supply the contractor with exact areas where asbestos can be found.  Our qualified and professional staff will survey the building and take samples to be examined for traces of asbestos. You will receive a comprehensive report on the findings.  Our service will extend to a meeting to discuss the drawing of the report which needs to be kept on the premises at all times.  This informs everyone where the asbestos is and what type of asbestos it is. There are 3 main types of asbestos with differing levels of hazardous potential.
An asbestos survey in Sunderland will recommend the best possible method of containing the asbestos in your building. Contact ACS today to have a survey carried out by our professional team.  It may be that some of the material has suffered wear and tear and is releasing fibres into the environment.  We may recommend encapsulation or removal.  This will protect all the workers or inhabitants of your building and will guard against any repercussions against you as the building owner or manager. We offer one of the most comprehensive and professional surveys available.