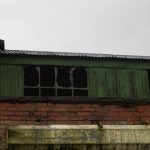 For a professionally done asbestos survey in Nuneaton, ensure that you use the services of an established company. An asbestos survey is necessary, especially if you are planning renovations or demolition of an older building. The reason for an asbestos survey is that asbestos was used in the past as a building material additive because of its many qualities. The name asbestos is derived from the Greek language and roughly translated means 'inextinguishable'. The properties of asbestos in building materials include good thermal insulation,  stability at high temperatures, and good electrical insulation. Asbestos also has high tensile strength and is chemical resistant. It makes sense why it was regarded as a 'wonder' material.
It is when the asbestos-containing materials are disturbed or damaged that it poses a problem. In Nuneaton, an asbestos survey will determine the location of any asbestos-containing materials, as well as their condition. The purpose of the survey, after determining where, and if any asbestos is, is to assist prepare an asbestos management plan. Knowing the extent of the asbestos in your building will help you take the necessary precautions. By having an asbestos survey done means that you, as the duty holder, will be legally compliant. Our expert team is available to assist with an asbestos survey. We have many years of experience and our surveyors are highly skilled, trained and professional. When asbestos, or asbestos-containing materials are damaged or disturbed, asbestos fibres are released and these airborne fibres can be inhaled by the unsuspecting occupants of the building. This can lead to disease and cancer such as Asbestosis, lung cancer and Mesothelioma. Unfortunately, these horrible diseases are incurable.
An asbestos survey in Nuneaton must be done by a professional team. It requires knowledge and experience of and dealing with asbestos and asbestos-related products. If you have any questions or would like to schedule an asbestos survey, contact ACS today. Our goal is to ensure that you and your building are legally compliant, and safe. We are experts in our field, and we work according to health and safety regulations as set out by the HSE.