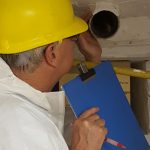 If you are uncertain about whether you need an asbestos survey in Skipton, contact us. An asbestos survey is part of the duty holder's obligations in ensuring a safe work place for his employees. Many older buildings were constructed using asbestos-containing materials. This was the norm as asbestos has a number of positive qualities, and when added to building materials, it added strength and durability, among other aspects. Unfortunately, when asbestos has degraded, it releases its microscopic fibres which lead to severe illness when inhaled. The use of asbestos in building materials was banned, and subsequently, steps need to be taken to manage the asbestos that is still present in some buildings.
If you manage or own an older building in Skipton, an asbestos survey should be completed to ensure that both you and your building are compliant. An asbestos survey will determine the location and extent of the asbestos, and outline the correct methods to manage it. It is best to use a professional company for an asbestos survey as it is certainly not a DIY project. We have skilled and experienced surveyors who are available to conduct an asbestos survey on your property. Our most popular and generally requested survey is the management survey. This survey will locate the presence of asbestos, as well as its condition, particularly the asbestos that is likely to be disturbed or damaged in the foreseeable future.
If you are planning on renovating or demolishing your building a different type of asbestos survey in Skipton is required. We can conduct a refurb demolition survey. It is fully intrusive and will involve destructive inspection so that access to all areas is accomplished. This survey does not assess the condition of the asbestos, other than to note areas of damage or where additional asbestos debris could possibly be found. If you need an asbestos survey to remain compliant, contact ACS today. We have many years of experience, the right skills and qualifications, as well as the committed to the health and safety of our clients. All the surveys that we provide conform to the HSG264 industry standard as laid down by the HSE.