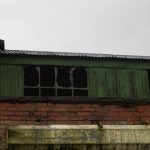 If you are wondering if you need an asbestos survey in Crewe, speak to the experts. An asbestos survey is mandatory if you are planning on renovating or knocking down your building. It is mandatory because many buildings contain asbestos in some form. Asbestos was regarded as an excellent building material additive in the past and was included in many building materials. Asbestos has many useful properties and by adding it to building materials, it ensured a strong and durable building. However, the dangers of asbestos became known and its use in building materials was banned.
Many older homes contain asbestos. In Carrington, an asbestos survey is needed if yours is an older building. Asbestos itself is not harmful. It is when it is damaged and disturbed that it poses a threat. Tiny fibres are dislodged and become airborne and these can be inhaled by unsuspecting workers on the property. The fibres then cause incurable disease. These include cancers, Mesothelioma well as asbestosis. If you are planning on working on your building, be sure to get a comprehensive asbestos survey from an expert team. Give us a ring to schedule an appointment. Our surveyors are highly skilled, qualified and experienced in dealing with asbestos. You can rely on them to provide an asbestos survey that meets your needs. We offer different asbestos surveys and we can discuss which would be the most appropriate for your building.
An asbestos survey in Carrington is completed to the standards and requirements of the HSE. Our team is professional and efficient and will complete your building's asbestos survey in a highly competent manner. If you would like to schedule an asbestos survey, contact ACS today. All the work we do is HSE compliant, expertly done and at competitive rates. We will conduct the most appropriate asbestos survey for your needs so that you are better informed on how to manage the asbestos in your building effectively. We offer a number of asbestos surveys, each designed for the building and any work scheduled for the building. Our surveyors help you to meet your obligations as a duty holder.