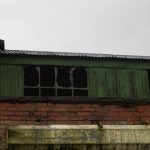 An asbestos survey in Dudley ensures that you have taken the right steps to protect those working in your building. Asbestos is present is most, if not all old buildings, particularly those constructed before 2000. A naturally occurring mineral, asbestos offered a great number of benefits, particularly to the building industry. It has many admirable qualities, providing strength to building materials. As a result, it was widely used. While it had many benefits for building materials, it has a life threatening drawback. Exposure to asbestos fibres leads to disease and cancer, most of which are incurable.
It is essential to put protective measures in place. For this reason, in Dudley, an asbestos survey is a vital first step. An asbestos survey will locate the whereabouts as well as the condition of any asbestos-containing materials in your building. When the location and condition of the asbestos-containing materials is known, a plan can be put into place on how to manage them. In fact, this is a legal requirement. An asbestos survey is best completed by an expert team. They have the knowledge and the experience to identify and determine the state of any asbestos in the building. They can also provide testing of any samples and assist with the correct disposal of the asbestos-containing materials.
If you are looking for an expert company for an asbestos survey in Dudley, speak to us. We offer both the management and refurb/demo asbestos survey to both domestic and commercial clients. All our surveys ensure that you and your building are legally compliant, and above all, safe. For more details on our asbestos surveys, or to schedule your own, contact ACS. Our surveyors have many years of experience in conducting comprehensive asbestos surveys. Additionally, they have the training, knowledge and skill to ensure it is safely completed. Should the survey indicate that there is asbestos in the building, we can refer you to an authorised asbestos removal company for its safe removal and disposal/. You can trust our experts for a comprehensive and safe asbestos survey for your building.