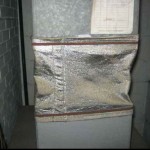 If you live in an older building, asbestos removal in Huddersfield might be necessary. Asbestos is present in many buildings, but older buildings often require renovations that can cause the asbestos to become unstable and hazardous. If you are getting your plumbing upgraded, you will first need to have any asbestos in the insulation on pipework and geysers removed. Asbestos in wall and ceiling insulation will also need to be taken care of before any renovations or repair works are carried out.
When ensuring the safety of your home in Huddersfield, asbestos removal is an important step that is often overlooked. If your family is exposed to hazardous asbestos or asbestos-containing materials, they are at risk of developing asbestosis or lung cancer, so it is best to remove any asbestos from your home as soon as possible. To have asbestos removed, you will need to hire the professionals. Here at ACS, we have the expertise and experience to successfully identify any asbestos in your building, and will provide a report and recommendations for removing the asbestos in clear, concise, easy-to-understand terms. We are established members of the ACAD (Asbestos Control and Abatement Division), and have earned a reputation for excellent prices and outstanding service.
A survey is the first step to be taken for asbestos removal in Huddersfield, and we offer a Management Asbestos Survey or a Refurbishment and Demolition Survey, depending on your situation. Contact ACS to discuss what options are best for your asbestos removal. Sometimes the asbestos can be dormant in your building and poses no health risks unless disturbed, in which case we can offer advice on how to manage it. With outposts in Bristol, London, Birmingham, Manchester, Leeds, Newcastle and Glasgow, we can reach clients throughout the UK in the quickest time possible. All of our work complies with the HSG264 guidance notes as issued by the HSE, and our staff are trained to handle any situation.