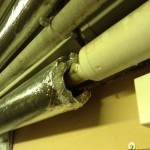 At ACS, we offer a range of services which includes asbestos survey for schools in Bromley. Our other services include management surveys, refurb demolition surveys, asbestos management, asbestos removal, health and safety training, and environmental evaluations (to ensure that your premises are compliant with the current environmental regulations. We offer in-depth surveys, thanks to our wide-ranging experience within the asbestos removal industry. We also have the capability of handling an asbestos project from beginning to end, and each project is carried out in the safest and most cost effective manner. You will be informed throughout the entire process, and by the end, your building will be fully compliant with the current legislation. As part of our services, we offer air testing and monitoring, asbestos training, and asbestos advice that will help you choose the best course of action for your project.
If you have a refurbishment or demolition project in Bromley, asbestos survey for schools will be fully intrusive, and, as needed, destructive, in order to gain access to all areas which will be affected. This type of survey is not meant to assess the condition of the asbestos. Instead it will help note damaged areas where additional asbestos debris may still be located. However, if you are not certain which type of survey your project requires, our support team will help you determine which course of action is most appropriate. Depending on the project, you may need a management survey, a refurbishment/demolition survey, or both.
So if your building has asbestos problems, contact us today for an asbestos survey for schools in Bromley. Once the survey is complete, we might recommend our asbestos removal services if your project requires it. Our asbestos removal services are cost effective, fully compliant with all of the current legislation, and they are fully handled by our team. We will hire the most reliable contractors who meet all of our high quality standards, and ensure that all paperwork is completed, including method statements, air test certificates, ASB5 and others. The project will be over before you know it.