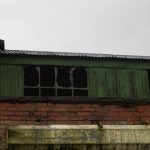 It's safer and legally required to obtain an asbestos survey in Ellesmere Port before you plan on renovating or demolishing an old building. This is because many older buildings contain materials with asbestos, which if released, can cause fatalities. It is advisable to use the services of a professional company and let them carry out an in-depth inspection. At ACS, we have a team of qualified professionals who are experienced and highly qualified to detect and deal with asbestos. Don't take the risks and try removing asbestos all by yourself. Our team have the required expertise and tools to provide the service.
Houses that were built in the last century most certainly contain asbestos. In Ellesmere Port, an asbestos survey is mandatory before any renovation or demolition project. Every property is different, and we offer solutions that are specifically tailored to meet their requirements. We offer a number of different asbestos surveys to meet your particular requirements. Our standard survey is a management survey. This is designed to locate the presence and condition of any asbestos-containing materials in your building. For those who plan renovations or demolition, a refurb-demolition survey is required. This survey can be intrusive and can involve destructive inspection. The purpose of this survey is only to note the location of damaged asbestos, or where other asbestos debris is likely to be found. Should it be necessary to have the asbestos removed, as it is damaged and likely to cause ill health, we work with qualified professional asbestos removal teams to ensure the safe removal and disposal of the asbestos-containing materials.
An asbestos survey in Ellesmere Port is the first step in managing asbestos in your building. For more information on how we can assist you with an asbestos survey, contact ACS. Our team understands the confusion that surrounds the duty to manage and we provide clear, understandable surveys to help you comply with current legislation. You can rely on our experienced and highly qualified asbestos surveyors who will provide a comprehensive and cost effective asbestos survey. This will also include additional recommendations on the best course of action.