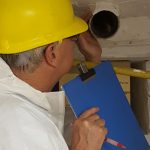 Stay in compliance with asbestos regulations with the right asbestos survey in Bootle. Regular and timely surveys conducted by ACS ensures the health and safety of building occupants. Our experienced, trained, qualified and licensed team can provide solutions for a range of environmental problems including asbestos safety. In earlier times, asbestos was a very popular material used in construction and building interiors for a variety of purposes. It was used extensively in residential and commercial buildings in walls, floors and roofs. Partitions, false-ceilings, lining for water-cisterns and tanks were made from asbestos or asbestos containing materials like paints, concrete, and plastering. Asbestos was also valued for its flame-retardant, non-inflammable properties. That's why it was used in ironing-boards, kitchen and bath heaters. However, since the last few decades, awareness of the hazards of asbestos has become more widespread.
Today, asbestos is considered to be a major health hazard. If it's in good condition, it is quite safe, but any damage, crumbling, breakage, wear and tear can result in the fibres working loose. In Bootle, asbestos survey is essential to prevent certain types of respiratory problems, allergies, cancers like mesothelioma and cancers. It can also lead to legal liability if the business owner or building owner ignores the presence of asbestos-materials in the property. Asbestos may also be present in the soil due to contamination when old buildings are demolished, renovated or refurbished. Our technicians can identify the location of asbestos or asbestos containing materials on your property, quantify it and also report on their condition. This is why it's crucial to conduct a thorough survey. Maintaining an asbestos register is also a mandatory requirement and regular survey helps to keep your register up to date.
We offer a standard management asbestos survey in Bootle and neighbouring regions. This includes air-monitoring and testing, training your personnel and providing professional advice. For more information on how we can assist you with an asbestos survey, contact ACS.  Our technicians offer personalised service to ensure that you remain in full compliance with current legislation.