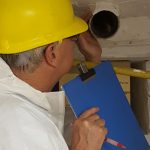 An asbestos survey in Bolton is best done by professionals. Asbestos caused a huge scare in the 20th century following its link to lung malignancy. Despite the ban on its unsafe use, many buildings still have asbestos in the structure. Asbestos has unique characteristics that favour its use in construction. The mineral is an insulator and has fire resistant characteristics. It has silicate fibres which are finer than a human hair and can easily be inhaled. Since the fibres are invisible to the human eye, they can be lodged in the lungs after unknowingly inhaling them. Therefore, asbestos is safer when bonded in a structure rather than disintegrated and free in the air.
If you are going to carry out a major renovation in Bolton, an asbestos survey is crucial. Asbestos gets released into the air following weathering, erosion, cutting, sawing, drilling, sanding or hammering. Unfortunately, this mineral is found in asbestos cement that is used in roofing, fencing and plumbing. If you have any intention or plans for renovation or demolition, its best to call a professional. At ACS, we know how to handle asbestos. We have a professional team with many years of experience in dealing with asbestos. As we know all the legislative requirements surrounding asbestos, we can advise you on the service you need.
ACS is the professional company to speak to for an asbestos survey in Bolton. We offer a wide range of professional services, and these also include air testing and air monitoring. Our team of professional trainers are available to provide our clients with specialist asbestos training when required.  We also carry out a refurbishment and demolition survey before any work begins. For more information about our asbestos surveys, contact ACS. We offer a management survey, which is the standard survey that we offer. We also provide a more involved survey, the demolition/refurb survey. This survey is necessary if you are planning on any refurbishment or demolition. It is a fully intrusive survey and will require destructive inspection, as necessary, to gain access to all areas.