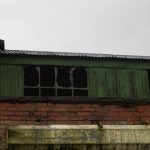 Get your asbestos survey in Hull done by ACS, a professional company with the right accreditations and training. As a landlord or duty holder, it's your responsibility to make sure that the property or building you are currently living in does not pose a threat to the health of all those who are working and living on the premises. As such, if you are about to take on any refurbishment projects, or even demolition, on a building that was built prior to the 2000s, you will need to carry out an asbestos survey first to ensure that the lethal element is not present within the ceiling or walls.
If asbestos is released into the air, they can cause serious health issues to all those who are exposed; in fact, asbestos is known to be a death leading factor prior to the year 2000, when its nefarious effects were still unknown to the general public. In Hull, an asbestos survey will have to be carried out by professionals who have been specifically trained for this. In the event that asbestos is present on the premises, our team have the appropriate knowledge and skills testing for the presence of asbestos, identifying them and the levels present, removing them and disposing them in a manner that is safe and secured. If asbestos cannot be removed, the locations will have to be identified and marked, and secured so that future employees and workers know not to disturb them. At ACS, we will offer a comprehensive service starting with simple, quick surveys to complete removal from sites, all the while, making sure that the asbestos is completely secured.
We help businesses and different types of properties manage their asbestos by offering a useful and accurate asbestos survey in Hull. If you would like to talk to us regarding the asbestos services we offer, please contact us. We can also train your staff to make them more efficient and aware of asbestos, while also making your business compliant with the relevant laws.