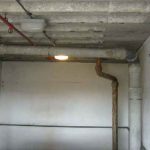 An asbestos survey in Leicester is needed by owners and managers of public housing, commercial buildings, schools, hospitals, and government facilities. Any building where people live or work, and is open to the public need to meet asbestos health and safety regulations. We can help your business stay in compliance. While it's not a requirement to have your personal private residence surveyed for this deadly mineral, we recommend that you do it for your own and your family's safety. When buying or selling a residential property, an asbestos survey should be included in the home inspection process if it was built more than twenty years ago. It is now against health and safety regulations to import or use any asbestos containing building materials in new builds.
If your building is more than twenty years old, unless the asbestos has been removed, it's in that building. When we undertake, in Leicester, an asbestos survey, we document where asbestos, if any, is found and what condition it's in. What we are especially looking for is any asbestos that is not contained. We can't see asbestos, but if we see asbestos-containing products like pipe insulation, old floor coverings or shingles that are damaged, then we know there is a good chance of contamination. The dangerous ultra-thin fibres can be breathed into and embedded in the lungs, causing deadly disease. However, if the asbestos is contained and undamaged, we consider it safe, but you need to manage it.
When we undertake an asbestos survey in Leicester, we note every location where asbestos is found in the building. We don't open up walls and ceilings because if asbestos is there, it's contained. We also note the condition of the asbestos and make recommendations for the manager or building owner to ensure the safety of the building occupants. Sometimes, there is no asbestos, sometimes it's there but contained so it just needs to be inspected from time to time for damage. If we find asbestos-containing materials that pose a threat, we recommend the professional removal and environmentally safe disposal of the materials from the building. Don't wait. Contact ACS and let us help keep your building compliant with health and safety standards. Unfortunately, asbestos is still a threat in many buildings, even after all these years. Make sure your building isn't one of them.