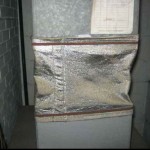 For a professional and affordable asbestos survey in Shevington, speak to a professional company. Our surveyors have many years of experience, are qualified and will provide a professional and thorough asbestos survey of your building. The dangers of exposure to asbestos remain high, despite asbestos being banned from use in August 1999. Any buildings erected before this date are more than likely to contain asbestos within the building. Asbestos was widely used in building materials for its many properties. While these properties were great, the consequences were devastating.
Your building might not have many asbestos-containing materials. However, in Shevington, an asbestos survey is still the recommended course of action. If you are planning to demolish your building or alter it in any way, a refurb/demo asbestos survey is necessary. If your building is unlikely to be untouched in the future, except for general maintenance and repairs, a management survey is the survey to choose. We offer both the management and the refurb/demo survey to our clients. Speak to our expert team if you have any questions regarding our surveys. The management survey is the most chosen survey by most building owners. The purpose of this survey is to locate both the presence and extent of any asbestos-containing materials within the building.
On the other hand, a refurb/demolition survey in Shevington is necessary if you are planning on the demolition or refurbishment of your building. We have many years of experience with asbestos, including surveys. For more information regarding the best type of asbestos survey for your building, or to schedule a date, contact ACS. Should it be determined that your building has asbestos-containing materials that need to be removed, we will refer you to a registered and authorised asbestos removal company. We believe in consistent customer care, so you can rest assured that your asbestos survey and removal project will be handled by our professionals, from start to finish. This means that you have the same contact person throughout the project. Ensure your building is safe for use. Schedule a booking for your building's asbestos survey and gain peace of mind.