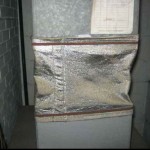 For a professional and comprehensive asbestos survey in Harrogate, remember the experts. We can assist you with a professional and safe asbestos survey for your commercial building. While the use of asbestos and asbestos-containing materials is banned, there are still a huge number of buildings that still contain asbestos in some form or another. Asbestos was widely used as an excellent additive to many types of building materials. As such, it can be found in a large portion of the building's structure. These can include ceiling, floor and wall tiles, insulation, cisterns and more. Asbestos is deadly, with inhalation causing serious and incurable disease and cancer.
It is essential to keep those who occupy your building safe. This can be done with, in Harrogate, an asbestos survey. Our experts have the knowledge, skill and experience to perform a thorough asbestos survey. We offer two types of surveys – the management survey and the demo/refurb survey. The management survey is the most popular survey and serves to identify the location and the extent of any asbestos-containing materials in your building. Asbestos becomes friable when it is old, and if it is disturbed, it'll release microscopic fibres into the air. These fibres cannot be seen by the naked eye, so the danger of exposure to asbestos is high. The asbestos fibres are strong and sharp and can easily penetrate the soft tissues in the body. The effects are not immediate, and once symptoms develop, they are incurable.
An asbestos survey in Harrogate will provide the necessary information for a legally required management plan. It is the responsibility of the manager or the owner of a building to ensure such a plan is in place. The survey will also provide the necessary information to keep your building – and its occupants, safe. For more details about our asbestos surveys, contact ACS today. Our asbestos surveyors have the necessary training and expertise to provide a safe and thorough asbestos survey for your building. All the surveys we undertake are in compliance with the guidelines as set out by the HSE.