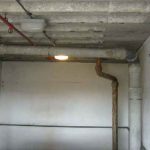 If you need an asbestos survey in Congleton for your building, choose a professional team. An asbestos survey is not a DIY project and it is essential that you use the services of a professional surveyor. Give us ring to schedule an appointment. Our surveyors have the knowledge, training, experience and skill regarding asbestos.  Asbestos fibres cannot be easily seen. However, an expert has the experience to locate any possible asbestos-containing materials in the building. Asbestos is present in many building materials as it was extensively used in the past.  Thus, some asbestos-containing materials are hidden from view.  We are available to assist with a professional asbestos survey for your building.
Most old buildings contain asbestos within their structure.  Thus, in Congleton, an asbestos survey is essential for all buildings erected before 2000.  Asbestos, when damaged or disturbed, releases its microscopic fibres into the air.  The danger is in the inhalation of these fibres.  Some Asbestos fibres are strong and needle like which lodge into the lining of the lung (pleura) causing incurable disease and cancers.  Asbestos fibres cannot be broken down by the human body.  Prevention is essential and this can be done by having an asbestos survey for your building.  The survey can also provide the necessary information for the best method of intervention.  Our expert surveyors are available to assist.  We can also assist you with creating a working management plan for your building.
Speak to us about a professional asbestos survey in Congleton for your building.  Furthermore, our team has the knowledge, experience and the training to ensure that the asbestos survey is conducted in a safe and professional manner.  In fact, all our surveys conform to the guidelines as set out by the HSE in accordance with HSG264.  Contact ACS today and schedule the necessary asbestos survey for your building.  We take pride in our excellent level of workmanship, professional surveys and affordable prices.  Moreover, your health and safety is our concern. You can rely on our professionals to provide the survey you need for your building.