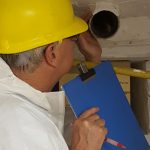 Asbestos is still with us in many of our buildings so it could be you are due for an asbestos survey in Bromley. Property owners are required by law to keep their buildings compliant with health and safety guidelines. ACS Health and Safety Environment is allowed to conduct a survey of your property for asbestos. If we find none, our report will show that and we will give your building a clean bill of asbestos health. If we find asbestos on the premises, our report will detail the location and condition of the substance. Our report is detailed but easily understood with no technical language to confuse. Included with our report is a management plan. That is our professional recommendation for the management of the existing asbestos.
Occasionally our surveys will show dangerous levels of asbestos that have been disturbed. When that threat exists in Bromley our asbestos survey report will recommend removal. Our company is fully trained, equipped and certified to safely carry out the removal project. Depending on the amount and location of the asbestos, we may not have to completely evacuate the building. We can seal off the section we are working so there is no hazard to those in other parts of the building. The safety of everyone in and around the building is our top priority. We will remove the asbestos, contain it and dispose of it according to health and safety standards. We will air test after the removal has been carried out to make sure the area is safe.
Even if you don't believe your building has asbestos present, we suggest an asbestos survey in Bromley if the building was built before the early 1980's. Asbestos is such a versatile material with great insulation capabilities and fire retardant qualities it was once used in everything. You may not see any wrapped around your water pipes but it could be in the ceiling tiles, wall paint, vents and a hundred other places. Call us at ACS and be on the safe side. Our fees for a survey and report are reasonable and worth the peace of mind. We have offices in Birmingham, London, Manchester, Bristol, Glasgow, Newcastle, Leeds and Halifax.