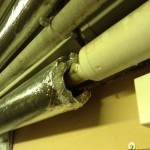 An asbestos survey for colleges in Havering is essential to ensure the safety of both students and staff. Asbestos, while regarded as an excellent building material in the past, and extensively used because of these properties, can lead, if disturbed, to fatal diseases if inhaled. Many of the college buildings in Havering were built prior to the 1970's, and as such may have asbestos containing materials. While asbestos itself is not harmful if it remains undisturbed, it is when it is disturbed and fibres are released that are then inhaled that it becomes lethal.
For the school management bodies in Havering, an asbestos survey for colleges is of the utmost importance. This is particularly so if  your college management board is considering alterations or refurbishment in the future. Before any construction work can be done, an asbestos survey must be completed to determine how much, where and the condition of any asbestos containing materials are present in the building. It is also a requirement of law to have an asbestos survey conducted before any building work can start. If you and your board are concerned about the presence of asbestos in your college, speak to us about a comprehensive asbestos survey. Not only will you be upholding, you will also ensuring the health and safety of your students and staff.
An asbestos survey for colleges in Havering is a straight forward procedure. All you need to do to begin is contact ACS and schedule a date for the asbestos survey. Our highly skilled and qualified team has a wealth of experience in all matters concerning asbestos. We will be pleased to provide a comprehensive and cost effective asbestos survey for your college. We will also provide recommendations on the best way to manage the asbestos. Should it need to be removed, we can refer you to the companies that we work closely with for asbestos removal. Don't jeopardise the health of your college's students and personnel, and speak to ACS for a comprehensive asbestos survey.