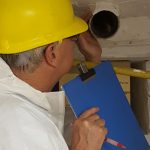 If you need a professional company for an asbestos survey in Dudley, contact ACS. We provide a wide range of asbestos related services such as management surveys, demolition surveys, asbestos management, asbestos removal advice, health and safety training, and environmental evaluations. The surveys that we provide are compliant with the current environmental regulations. We also offer in-depth surveys, and we are experienced to handle and an asbestos project from beginning to end. For your peace of mind, every project that complete is carried out in the safest and most cost effective manner.
If you have a refurbishment or demolition project in Dudley, an asbestos survey is necessary as it is required by law. This is necessary for all buildings that were constructed prior to 2000. As asbestos was used as an effective and all round building material as a result of the many properties it has, many buildings were constructed using asbestos containing materials. Unfortunately, it was found that asbestos has disastrous effects on those who came into contact with it, and those who inhaled its airborne fibres when it was disturbed. Asbestos is responsible for fatal diseases such as asbestosis, Mesothelioma and lung and larynx cancer. An asbestos survey by ACS will determine the location of the asbestos and advise you on the best course of action so that you remain legally compliant regarding the asbestos.
An asbestos survey in Dudley is completed by our expert and skilled team. All our work conforms to the HSG264 industry standard as laid down by the HSE. If you are concerned about the presence of asbestos in your building, contact ACS today and arrange for a professional survey. If asbestos containing materials are located in your building and need to be removed, we will refer you to asbestos removal companies who are fully qualified and expert in all aspects of asbestos removal. You can rest assured that your asbestos survey and removal project will be completed by competent professionals at all stages. If you have any questions or need advice regarding any aspect of asbestos, feel free to speak to our friendly, professional team.