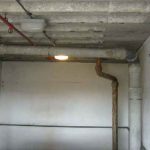 Stay in compliance with regulations and keep occupants safe with the right asbestos survey in Everton.
ACS has a highly-trained, certified and experienced team to help you deal with the presence of this hazardous material on your premises. If you live in an older building, especially one that was constructed prior to the 1950s, it's possible that there could be some form of asbestos or asbestos-containing material in it. Asbestos is a naturally occurring material that has been known for more than 4000 years and was valued for its heat resistance, ease of use and insulating properties. Mined all over the world, asbestos was used in electrical appliances, in roofing, flooring, packing materials, room dividers and false ceilings, fire-retardant paints, inside water heaters and tanks, as insulation and sound-proofing inside walls etc. In recent years the risks of asbestos exposure have made it mandatory to avoid using this material.
If you are planning to renovate, refurbish or extend your building, it's vital to conduct a thorough survey. In Everton, asbestos surveys are essential to identify, locate and assess the condition of asbestos in your premises. Otherwise you could endanger the lives of all those in the building, including the workers on the project. When in good condition, asbestos is safe to use. However, with age, damage, wear and tear, the fibres separate and pollute the environment. They enter the lungs and cause a variety of conditions including allergies, respiratory problems and life-threatening cancers and mesothelioma. The risks of asbestos exposure are such that the symptoms can take years to manifest. This also poses a legal liability for premises owners as those who contract asbestos related illnesses can take legal action. There are very strict government regulations and industry standards to be complied with.
At ACS, our asbestos survey in Everton is completely unbiased and genuine, especially since we don't provide disposal services. What we provide is a comprehensive report on the presence, quantity, age, quality and condition of asbestos or asbestos-containing materials on your premises. For more information about our asbestos surveys, contact ACS. This helps you maintain an asbestos-risk register and/or take steps to dispose of the hazardous material.
EvertonEverton