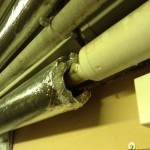 An asbestos survey in Oxford is necessary to ensure a safe working and living environment. Asbestos was the wonder mineral of the 20th century. It discovery coincided with the industrial revolution and exploitation picked up as the demand for natural raw materials increased. Asbestos is a naturally occurring mineral composed of thin needle-like fibres. The mineral is soft and pliable yet resistant to electricity, heat and corrosion. The unique properties of asbestos explain its wide range of application in construction, plumbing, mining, firefighting and shipbuilding. However, asbestos use is not flawless. After thorough research and medical testing, asbestos was declared a causal agent of numerous respiratory pathologies including malignancy. Free asbestos fibres were implicated in lung inflammation, pleural thickening, effusions and dysplastic changes. The new discovery forced governments to ban and regulate the use of the mineral
Asbestos is in our homes and offices. In Oxford, an asbestos survey involves a thorough check for free asbestos fibres. The process ensures your house or office is safe for occupation. Free fibres form when asbestos products are damaged or destabilised. This occurs during repairs and construction work. Unfortunately, the fibres are odourless and invisible to the naked eye. Inhalation occurs without suspicion and the pathogenesis of lung disease follows insidiously. Through professional asbestos survey and disposal, exposure to asbestos is curbed. At ACS, we take our job seriously. We do everything from asbestos survey and management to removal. Our primary goal is to ensure all residential and commercial spaces meet the required health and safety standards surrounding asbestos.
You might be wondering if you need an asbestos survey in Oxford. Construction application of asbestos covers a lot of fixtures including pipes and insulation. Some asbestos products are clearly marked by the manufacturer and are easy to identify. However, others are not. Houses constructed in the mid 20th century have a high probability of containing asbestos products. A survey is important to confidently ascertain a space is free of harmful asbestos fibres. Contact ACS today and get a thorough asbestos survey. We offer world-class services at affordable rates. Make your spaces safe with ACS.