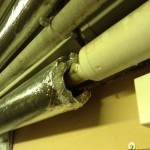 You will need an asbestos survey in Hull completed before you start renovation work in your home. It is a highly specialised task, and only trained and qualified asbestos surveyors should be retained to conduct the survey. Avoiding the issue and forgoing the survey can have dangerous consequences, which is why it is a requirement for renovations and demolitions. If you live in an older building, it is highly likely that there is asbestos in the walls and insulation. If you are planning to knock any of these walls down, redo your ceiling, or replace your geyser insulation, or any other renovation work, you need to arrange an asbestos survey before starting the project.
With a professional company in Hull, an asbestos survey is affordable. Our costs are clearly presented in understandable terms, and won't break the bank. We are happy to provide the asbestos survey you need in order to keep your building compliant with regulations. Not only are we dedicated to providing first class asbestos surveys, but providing education and awareness of the risks and hazards of asbestos too. Our service includes the survey, a report on the survey's findings, guidelines and advice on how to manage the presence of asbestos, and any support or assistance you may need. We provide detailed and specific surveys to meet your needs.
An asbestos survey in Hull is the first step towards a stunning new renovation. We are committed to providing an excellent service and support for all our clients, both domestic and commercial, and our team is well trained to handle any situation. Contact ACS today to find out about what kind of asbestos survey will suit your needs. We provide a Management Asbestos Survey or a Refurbishment and Demolition Survey, both of which are conducted in accordance with the HSG264 HSE guidance notes. You will not find a more qualified, dedicated company than our team. Keep the occupants of your building safe from harm when you hire our services.